USOC USA House, Beijing, China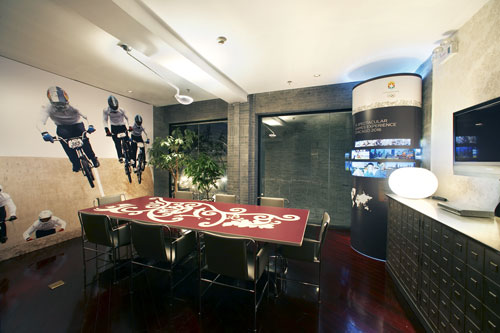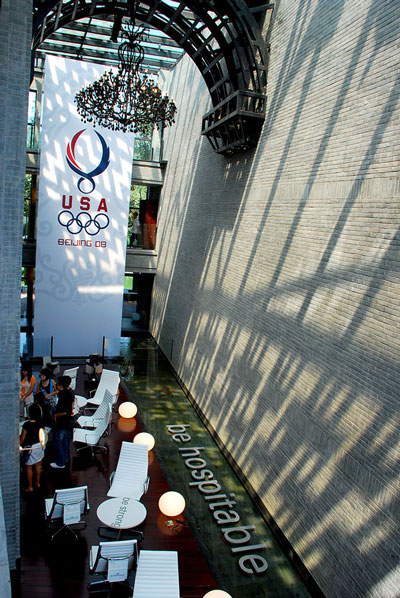 of note …
For some background, USA House has been the traditional Business & Hospitality center for the Unites States Olympic committee since the Games in Athens, Greece. Each year, the site has continually been upgraded and improved. The Olympic Games in Beijing, China were the most important, most watched Olympic Games in recent history, and the impression left by the United States was more important than ever.
This particular USA House would be over 42,000 square feet covering four floors including a roof deck. It would eventually accomodate over 40,000 visitors including VIP's such as President George H.W. Bush, President Felipe Calderon of Mexico, actor Vince Vaughn, musicians such as Abigail Washburn, Bela Fleck, and Michael Tolcher. We of course also hosted many Olympians such as Bob Beamon, Mary Lou Retton, the U.S. Men's and Women's gymnastics teams and the duo of Misty May-Treanor and Kerri Walsh just to name a few. This USA House in Beijing was widely recognized as the best U.S. business & hospitality center ever put on.
design objectives
Work with an architect and installation company to envision, mock up, design and install graphics and furnishings for this venue. The project design began over a year prior to the Olympic Games once the property was selected. I began working on potential designs in collaboration with our architect and the Director of USA House. This process would take a full year and include 19 revisions to the design deck, include at one time over 119 separate graphics, eventualy pared down to just over 60.
Once the property was aquired, our team needed to supervise and participate in the complete removal of all existing furnishings, deco and light fixtures. From here, my responsibilities were to supervise the Chinese team of project managers and laborers who installed all of the substrates and surface treatments for the overall design. I then worked directly with our Kodak partner in Beijing to accurately choose the proper color output of all graphics, coordinate these graphic installs around our own setup team, ensure the quality of the installation and manage the quality of the venue look and feel over the course of the Olympic Games.
design challenges
This was a 42,000 sq ft venue in which we installed over 60 separate graphic pieces (over 100 that were initially designed) — the largest of which was 3 stories tall. In the past, this project was farmed out to a large design agency. This particular project I designed single handedly. Care needed to be taken with these graphics as measurements needed to be precise, and these graphics would be reproduced at sizes ranging from a few feet square to over 3 stories tall. Color would need to be consistent throughout the space and athlete imagery would need to look clear and crisp even when blown up sometimes over 1000% of their original size.
I was responsible for managing the install team of all Chinese project management and workers. Given the culture, it paid off to recognize the concept of 'face' — when things got challenging, the response of frustration and anger would definitely not have helped the situation. My understanding of the Chinese culture alleviated any of these potentially detrimentall situations.